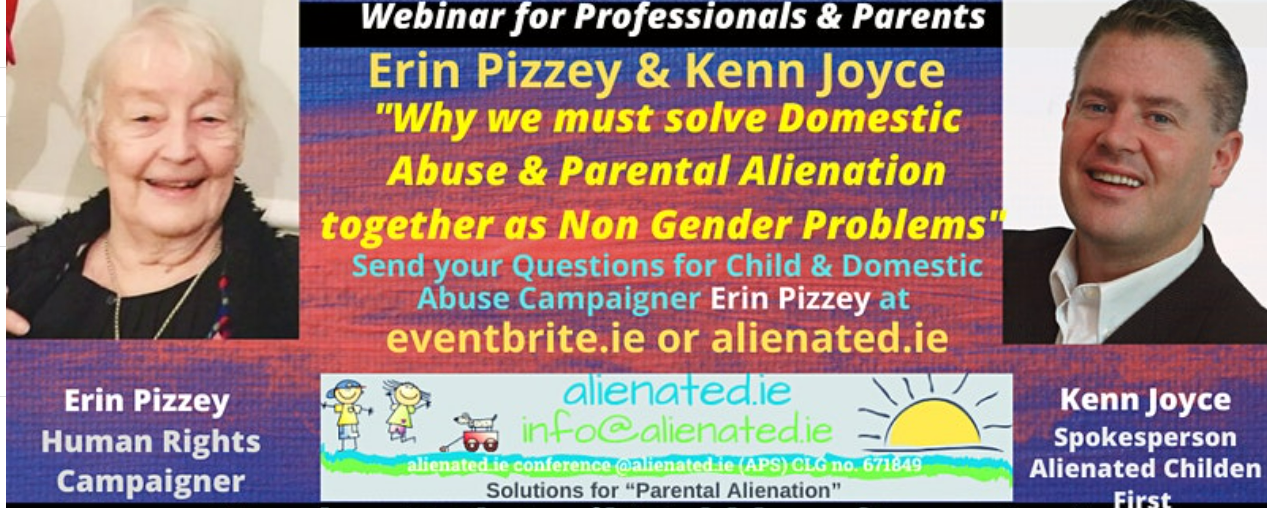 This unique Bubbles of Love Event will be presented by Rights Campaigner Erin Pizzey founder of REFUGE UK the first DV Shelter in the World.
Alienated Children First (ACF) is delighted to have for their 9th public webinar – guest speaker veteran Human Rights and anti Domestic Violence campaigner Erin Pizzey in conversation with ACF spokesperson.
Erin Patria Margaret Pizzey (born 19th February 1939) is an English human rights and domestic abuse advocate, and novelist. She is known for having started the first-ever domestic violence shelter that is still currently the largest shelter in the modern world, Refuge, (then known as Chiswick Women's Aid), in 1971 and helped set up the first shelter in Ireland's Harcourt Terrace in Dublin for both Women & Men. Erin as her name suggests is proud of her Mayo roots and has visited Ireland on many occasions. Like ACF, Erin advocates that Children must be protected primarily from both Male and Female abusers; and that they have to work together to raise awareness on the effects of domestic abuse on children and especially the emotional often lifelong lasting effects of Parental Alienation. She commends the Irish Government for its current initiatives in researching and consulting on parental alienation and how to address it effectively for the best interests of Irish Children.
Erin has been the subject of death threats and boycotts because of her balanced real experience with the issue of intimate partner violence where she concludes that most domestic violence is reciprocal and that women are equally as capable of violence as men. She is banned from the refuge she started and was not even mentioned at the recent celebration of their foundation in the House of Lords. Erin has penned a number of fiction and non-fiction books and has been interviewed by the media from all over the world for her historical groundbreaking human rights work.
To read more about Erin's campaigning career just google "Erin Pizzey" and their is a whole library of her achievements on the web.
Kenn Joyce is a founder member of Alienated Children First which campaigns against all forms of child and domestic abuse and specifically against Parental Alienation Abuse. Kenn is a broadcaster and presenter a serial entrepreneur and a philanthropist. Kenn has a keen interest in helping to stop the discrimination against alienated victims in Ireland focusing on the voiceless, forgotten, and unprotected Child Victims of Parental Alienation Abuse. Kenn has broadcast and been interviewed on this issue on radio and press; some recent examples can be viewed at https://alienated.ie/
SCHEDULE
Welcome & Introductions
Kenn Joyce, Chairperson, Spokesperson-Alienated Children First
6.00 – 6.05pm About Webinar and Alienated Children First
6.05 – 6.10pm Introduction to Erin Pizzey by Kenn Joyce
6.10 – 6.15pm Erin's Journey
6.15 – 6.30pm Erin on the dynamics of family separation
6.30 – 6.45pm Erin on the effects of abuse on the child
6.45 – 7.00pm Erin on why the pretend 'gender war' is damaging children and society
7.00 – 7.15pm Erin on the positive way forward
7.15 – 7.30pm Questions and Answers